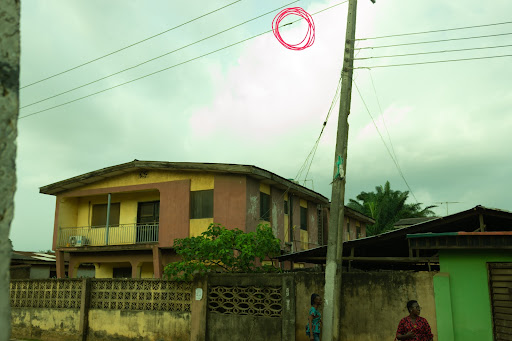 The Nigerian Electricity Regulatory Commission (NERC) stipulates a reasonable distance to be maintained before structures are erected close to transmission lines, but in this report, ALFRED OLUFEMI details how residents across different areas in Lagos and the federal capital territory (FCT) continue to flout the rules, defy the authorities, and expose themselves to potential calamity. 

---
In 2016, tragedy struck in Fagbeyiro Abayomi, a quiet street tucked in the densely populated Alakuko area of Lagos state. Barely three weeks after she sat for her final West African Senior School Certificate Examination (WASSCE), Deborah Faleke, 14, left her parent's house in Alagbado, another part of Lagos, to spend some days with Bukola Ogunbajo, her eldest sister who resides in Fagbeyiro.

While at the Ogunbajos' residence, Deborah was electrocuted and she gave up the ghost despite frantic efforts to save her life.

On the day of the incident, electricity had just been restored following days of a blackout. Shortly after the power came on, one of the 11kv high tension wires on the pole beside the fence of the house sparked, alarming residents.

"Everyone came out to see what happened. As she came out, the wire fell off and hit her on the head. That was her end," Matthew Ajeigbe, chairman of Fagbeyiro landlords association, recounted when TheCable visited in early November. 

"Very gentle girl…" he muttered under his breath.

Deborah, according to her elder sister, was instantly rushed to a hospital but health workers at the facility rejected her. 


"The (health) workers there said they did not have adequate equipment. So she was rushed to a second private hospital where she later died," Ogunbajo said.
TheCable learned that
the aggrieved family subsequently filed a lawsuit against the Ikeja Electricity Distribution Company (IKEDC) and the Nigerian Electricity Regulatory Commission (NERC) — but it was later withdrawn.
Ademola Faleke, the deceased's father, had in 2017
told
the News Agency of Nigeria (NAN) that although IKEDC paid the family an undisclosed amount as compensation, it didn't wipe off the painful memory.
"It is God's will and we couldn't challenge further. We had to inform Falana chambers to withdraw the suit," said Faleke.
'Hundreds of lives lost'

According to the Nigerian Electricity Management Services Agency (NEMSA), at least 453 persons were killed in power accidents between 2015 and October 2018.

Beyond electrocution, electric and magnetic fields (EMF) that exist wherever electric current flows in power lines and cables produce adverse health consequences, research by the World Health Organisation (WHO) has shown.

The 2007 research says there are established biological effects from acute exposure at high levels, which could cause "nerve and muscle stimulation and changes in nerve cells".

The WHO said there is epidemiological research indicating an association between prolonged exposure (which can be associated with residential proximity to transmission lines) and increased rates of childhood leukaemia.

Despite these associated risks, Nigerians have continued to conduct businesses and live under or close to power lines in violation of the NERC regulation on right of way (RoW).

RoW is the distance from the middle conductors of overhead power lines to other parts of the transmission tower or poles.

According to the NERC safety regulation of 2015, a 50-metre distance split must be maintained on both sides of the lines before erecting structures close to a 330kv transmission line.

For a 132kV transmission line, the distance is 30 metres while for the power distribution side such as 33kV and 11kV lines, structures must maintain a minimum distance of 11 metres.

"For safety reasons, no structure shall be built under the overhead line's Right of Way (RoW). Where such structures are built after the construction of the lines, the licensee shall not be liable for any mishap caused by contact with the lines," the law further states.

While there is no punishment stipulated in the NERC regulation for violators, development managers in Lagos and Abuja have been demolishing structures that run afoul of the law and they sometimes chase business operators from such areas.

For instance, over 350 illegal structures, built on the RoW at Oba Wahab Ayinde Balogun Modern Market, Isheri-Olofin, Egbe-Idimu LCDA, were demolished by the Lagos state government in 2016.
No lessons learned

Despite the fatal accident of 2016, Fagbeyiro Abayomi street still remains at risk of another tragedy. 


Two weeks prior to this reporter's visit, two electric cables had fallen off, but thankfully, no casualty was recorded because no one was within close proximity at the time.
Matthew Ajeigbe, who was supervising the construction of a building when TheCable visited, said if the cables had fallen during school hours, it would have been a repeat of the calamitous 2016 incident.
While he spoke, students of Alakuko Junior Secondary School leisurely walked by, and briefly gathered under the cables, chatting and giggling — unbeknownst to them, the danger hovering above.
Meanwhile, an uncompleted one-storey building sits right beside the pole, when it should be at least 11 metres away, as stipulated by NERC.
The landlord of the property could not be reached for comment but neighbours said the building, which is near completion, would not have reached that stage if it was not approved by the authorities.
Mechanics working under transmission tower  

At the Ojokoro area of Lagos, Olayiwola Omololu, a mechanic, sits on a wooden bench, dishing out instructions to his apprentices for a Volkswagen car to be fixed and sent back on the road. He shares the enclosed space with other mechanics and panel beaters. 


Olayiwola, who is the chairman of the Nigerian Automobile Technician Association (NATA) in Ojokoro LCDA, said a scarcity of land has forced automobile workers to power lines and some other dangerous places.
"Government cannot send us away from here because the only problem facing technicians is that the Lagos state government doesn't give us land," he said.
"Where we are permitted to work include power lines, canal setbacks, gas lines, pipelines. Yet, landlords want to take over this place from us."
Olayiwola said while he is not oblivious that his continued stay in the environment is dangerous, he has a family to feed.
"We are all taxpayers. Yearly, they pay N50,000 yearly. It is not easy to change environment. We cannot leave this. We have no place to go." 
He lamented that the mechanic villages, dedicated to automobile technicians, are being encroached upon, implying that they are left with no other option.
Similarly, Olabode Joseph shares the belief that mechanics and automobile technicians cannot be asked to vacate power lines. The panel beater and welder, whose workshop is located under a transmission tower in Ifako-Ijaiye, laughed off the concern when told of the danger associated with working in the area. 
"We work here and go home at night, what about those who built houses and are living here?" he asked rhetorically.
"Even local government officials come here for levy," he added, stating that the government has made no efforts to displace them.
When contacted for comment, Mukaila Sanusi, spokesperson of the Lagos ministry of physical planning and urban development, said the ministry "will keep enforcing the law and enlightening the people". 
He, however, refused to respond to claims by the automobile technicians that the government approved their stay under power lines.
---
---
Like Lagos, like Abuja —  a market under tension

Jigawa-born Ibrahim Ileya displayed tomatoes and scotch bonnet in front of his stall behind the federal housing estate in the Lugbe area of the FCT, Abuja.

Ileya and many other stall and shop owners who operate under a 330kV transmission line appear not to mind the risk. For the sellers of different goods and commodities, it is simply another day to trade and hopefully make a profit.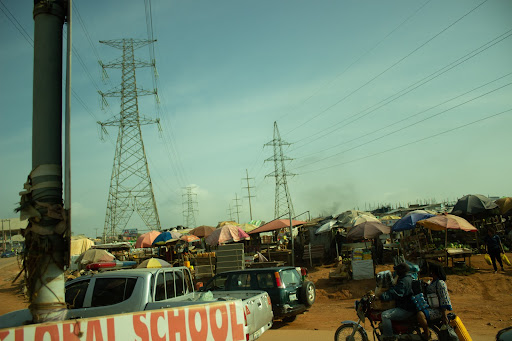 "If dem comot, we dey come back," he said in pidgin English, carefully selecting his words that Monday morning.

According to the 22-year-old trader, whenever police officers and the FCTA development officials are spotted, the sellers will vanish into thin air for a few hours and later return to continue their businesses.


He said the divisional police officer in charge of the area had warned them to permanently vacate the premises on several occasions, citing safety concerns about the power line, but they would not bulge. 
"I can't leave because I don't have any other job to do," he restated.
Opposite Ibrahim's stall is Ola who operates a mechanic workshop close to the transmission tower.
Ola told TheCable that he had been there since 2012, defying several warnings of environmental officials like other shop owners in the area. 
Asked if he is aware of the dangers, Ola said the high tension wire is not functioning, an assertion later countered by electricity workers.
Over 20 meters away, seven people are seated under a canopy, listening to a preacher, popularly addressed as 'Christ Bieze'. 
With a microphone connected to a blaring public address system, the preacher was educating the male-dominated audience about enduring hard times.
His words of exhortation were backed by excerpts from the book of Job, the part of the Bible that chronicled the life of Job — the righteous man who lost everything except his faith.
According to Patience Edet, a point of sales (PoS) operator working beside the canopy, 'Christ Bieze' gathers people under the power line on the first day of every month.
FCT seeks collaboration with TCN

Despite efforts to dissuade and persuade them to find alternatives, people continue to reside under power lines in Dawaki, Apo and Dutse Zone 7 areas of Abuja metropolis.


Victoria Philips has been running a pharmaceutical store in Dutse Zone 7 for nearly three years and her shop is close to the transmission tower.
She said the FCTA development authorities visited the area in 2014, a year after she moved into the neighbourhood, to demolish a building.
"The last time they came, they didn't reach this place. It was in 2014," she said as she moved to get some medicine for a customer. 
Philips pointed to the spot where the building was demolished in 2014 but it was observed that some blocks had been deposited close to the place.
TheCable also found that some shops at Dutse Zone 7 had been demolished while some houses have been marked with red paint — a sign of imminent demolition.
Garba Kwamkur, acting director, development control department, FCTA, said the agency has made a series of efforts to evict people living in such areas — but they remain defiant and undeterred, always returning after FCTA officials must have departed.
"The FCTA department of development control controls all forms of physical development that goes on within the city and has had a caution mark on all illegal development under high tension lines," he said. 
While he promised that there will be a change very soon, he spoke of a plan to partner with the Transmission Company of Nigeria (TCN). 
"We are writing a very strong letter to the Transmission Company of Nigeria so that we will be in partnership. So that anytime we remove, they can come and fence up that area so that people will not go back there again because by the time these power lines are energised," he said. 
"We are hoping TCN will come and partner with us so that when we remove these structures they can use barbed wire and secure those transmission lines."
Lawmakers kick, NERC speaks

In March 2021, the house of representatives called on NEMSA and other relevant agencies to commence the demolition of buildings and structures under high tension electric cables across the country.

The resolution of the house followed the adoption of a motion titled, 'The need to enforce the law forbidding erection of buildings and structures under high tension electric cables'. The motion was moved by Musibau Kolawole, the lawmaker representing Ajeromi-Ifelodun in Lagos state.

TheCable reached out to Magaji Aliyu, chairman of the house committee on power and electricity, to inquire why the directive is yet to be implemented widely, but he failed to respond to calls and text messages. 

Commenting on the issue, the regulatory body, NERC, said the life-threatening trend is not only rampant in Lagos and Abuja but in many parts of the country.

"We are working with the state government and federal authorities," Usman Arabi, the commission's publicist, said in response to TheCable's inquiries. 

---
This is a special investigative project by Cable Newspaper Journalism Foundation (CNJF) in partnership with TheCable, supported by the MacArthur Foundation. Published materials are not views of the MacArthur Foundation.
Source: Policy Radar
free vector