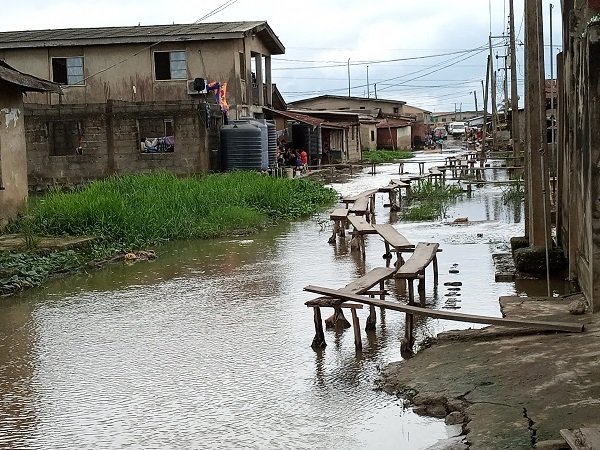 Surrounded by large water bodies, Ajegunle and Itowolo, two communities in Lagos state, have a shared reality — perennial flooding. If it were possible to keep rain at bay, residents of these communities would deploy all their resources to stop the rainy season and prevent the untold hardship they face yearly. Many residents usually abandon their houses when the rains beckon, while those who have nowhere to go remain in the flooded, unhygienic environment. TheCable's AYODELE OLUWAFEMI visited the communities to examine the plight of residents.

---
It was the morning of October 10 and Ajegunle community was relatively quiet and deserted. It seemed unusual for a Sunday morning as the expected noise at places of worship was missing. Noticeably, dirty water had snaked its way into houses and rooms, making the entire community a murky mess. In the absence of passable roads, small boats and makeshift wooden bridges were in place to facilitate movement.


The flood had taken over places of worship, schools and many homes, while those who could not afford to relocate were forced to stay put despite the negative effects.
A FLOOD PREDICTED
In July,
the Nigeria Hydrological Services Agency (NIHSA) had predicted that Lagos would experience flooding in September.
"The peak of the rainy season in Lagos is projected to be in September and has always been in that month," Clement Nze, NIHSA DG, had said.
"Lagos and surrounding areas were included in our prediction in terms of the flooding that occurred. Also, Lagos is one of the 10 megacities globally and there are six cities that are sinking and might sink or disappear in 50 years based on meteorology."
Aside from the trouble of living in a flooded environment, residents of Ajegunle have to battle heavy deposits of dirt caused by the movement of the water.
Crossing a wooden bridge to one of the flooded houses, this reporter met Mummy Aduragbemi, a mother of six who has lived in the community for the past two years with her husband. She was breastfeeding her three-month-old.
She seemed lost in thought as she stared blankly at the stream that had taken space in the front of the house. According to her, due to the flooding, the family moved some of their belongings to a temporary overcrowded shelter.
"I'm not staying here for now. I stay in one of the buildings after the road. I usually come here to pick some things because we moved some of our things to another place," she said in Yoruba.
"The flood has affected us. It is not only in this area, but the water here is too much. The water entered our rooms, if not we would be inside. Many other tenants have moved away from this house.
"If not for my children that I don't want them to change school, I would have left here for Ibadan where I came from. If you take children from one place to another, it will affect their education negatively; that is why I'm still in Lagos."
While noting that electricity supply is usually cut off in the community when there is flooding, she called on the government to assist residents as many of their properties had been destroyed.
"You can see them taking canoes. We need help in Ajegunle. If you put your legs inside the water, you'll get so many infections. That is why I took my children away from here," she added.
BATTLING INFECTIONS
As residents resort to the use of rain boots to protect their legs, Azeez Adekunle, a man in his twenties, said his toes have been "badly eaten up" in what appears to be a case of a fungal infection.
Adekunle also had some bruises on his legs, which he said was the result of falling off the wooden bridge in front of his house.
He said the flooding in Ajegunle is an annual experience, adding that he would have relocated if not for lack of funds.
"I've been here for about four years now. Others have left because of the flood which even entered our rooms, but they will come back when the water goes down," he said.
"During the rainy season, many residents usually relocate to shops and other places. The government has not done anything. We are just on our own.
"The flood has destroyed my legs. Just yesterday, as I was passing through the bridge, I slipped because the water covered the bridge. If I had money, I would have gone to find an apartment in a different area."
FG VISITED IN 2010 BUT NOTHING HAS HAPPENED SINCE
Alabi Femi, a resident in his sixties who sells lubricant oil, said he has been in Ajegunle for over a decade. According to him, after a major flooding incident in 2010 left many homeless, former President Goodluck Jonathan visited the community and promised to construct drainages and put other measures in place to address the issue.
"In 2010, Goodluck Jonathan came here after a massive flood destroyed many houses in this community. I was part of those who went there (pointing to a place across the road) to welcome him. Jonathan told us that the federal and state governments will help us construct drainages and other things," he said.
"Look at this community. Water has destroyed almost all the houses. People are moving out of this community every day; residents are running helter-skelter.
"Look at dirt everywhere in the flood. There is nowhere you will see dirty water like this place that such people will not battle malaria, cough and other diseases. People are just managing this place."
ITOWOLO: A COMMUNITY PARTIALLY SUBMERGED
Like Ajegunle, Itowolo residents make use of boats to access their houses. Those who have cars park them outside the community.
While Ajegunle is under Kosofe LGA, Itowolo is part of Ikorodu LGA. However, the flooding experienced in Itowolo is worse. Houses and churches are partially submerged. Residents said pupils of the government-owned Community Primary School have stayed for more than one month at home due to the flood.
'GOVERNMENT SHOULD HELP US DREDGE THE ODO-OGUN RIVER'
Tope Omotosho owns a house in Itowolo and has lived in the community since 2005. When TheCable visited, he was fetching water from a black storage tank, while he was knee-deep in the flood. According to him, the flood has destroyed many properties.
"I have been here since 2005. This has been the trend since then. The moment the flood comes like this, electricity supply is usually cut off so that there won't be electrocution and this will go on for some months," he said.
"If there is a way that the government can help dredge the Odo-Ogun river, the flood will reduce drastically. You see the way they did Maroko and Bar Beach."
'
NOWHERE TO RUN'
Mary John is another resident based in Itowolo. She was visibly angry as she narrated her experience. She said her husband bought the land on which the family house was built — a decision she was not happy with.
"This one (referring to the flood) is even better than that of two years ago when we were bringing water out of our rooms," she said.
"This present flooding started in the last week of August. Government should please help us. They should help us close the dam. They should help us find a solution to this problem. There is nowhere to run to."
Source: Policy Radar
free vector