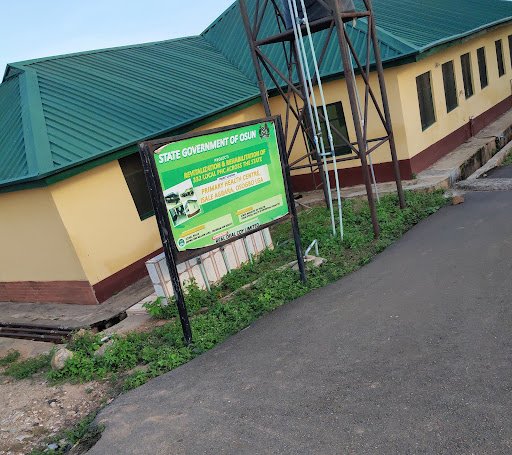 Afolabi Damilola Iyanuoluwa is a fictitious child's name but today, the imaginary four-year-old boy has four different birth certificates from four primary healthcare centres (PHC). The birth certificates were obtained during an undercover investigation which revealed a rampant lack of due diligence, open corruption and the indiscriminate issuance of the important document in Osun, Ogun and Oyo states.

---
On October 18, 2021, when this reporter visited Isale Agbara PHC in Osogbo, Osun state, just a few workers waiting to resume their night shift duty were found on the premises.

"How can we help you?" asked one of them, a female, who had her glasses perched on her nose.

After being informed of the intention to get a birth certificate, she said, "go there", pointing to a spot which an official of the National Population Commission (NPC) uses as a birth registration centre. 

"You will see the telephone number of 'Baba Ewe' on the wall. Just call him and tell him you want to obtain a birth certificate. He will tell you when he is going to be available and the cost," she added.


WITH N1000, NO QUESTIONS ASKED

When contacted on the phone, the official said he had closed for the day. But as soon as he heard that this reporter came from Lagos to obtain the certificate, he had a change of heart.

Less than 10 minutes later, the official, who introduced himself as SA Alabi,  arrived on a motorcycle. 

Alabi was upset that the reporter came late to the hospital despite knowing that civil servants close between 4pm and 5pm. 

"The government doesn't pay us for extra time so you have to come very early tomorrow to do the registration and obtain the birth certificates," he said.

"We issue certificates on immunisation days and we already did that today. I will help you tomorrow since I know you travelled from Lagos but you have to pay for my kind gesture." 

When reminded that the next day, October 19, 2021, was a public holiday for the celebration of the Mawlid Nabi festival, he agreed to process the birth certificate that evening. All needed was a sum of N1,000 for a registration that is meant to be free.

"Tell your friend to wait for you here. I will take you to my house so that I can get you the certificate," he said.  


Alabi's house is adjacent to the health centre. Asides from his work as an NPC official, Alabi also runs a tradomedical bone clinic.
On getting to the office in his house, he asked this reporter about his relationship with the child he came to get a birth certificate for. In response, the reporter said he's an uncle to the non-existent child.
Without requesting any hospital record as required, Alabi simply asked the reporter some questions about the child and his parents.  After providing
the necessary information and paying N1,000,
Alabi issued an original birth certificate dated October 18, 2021. Just like that, the transaction was done. It was business as usual. It didn't matter that there was no official document proving the existence of the child.
N500 IN OGUN

"We are sorry, Today is Monday. You can't get it today. We give immunisations on Wednesday and that's when the officials of the NPC will be around to issue birth certificates," a nurse at Ijeun-Tuntun health centre, Abeokuta, capital of Ogun state, told this reporter on his first visit to the hospital.  

Asked if the process required any payment, she said: "Just come with N500 and you will get it on Wednesday. Remember to come with the details of the child and his parents. The woman comes as early as 8:30am."

Two days later when this reporter returned, he met an NPC official who identified herself as Saka H. B. Again, the same information was provided for the issuance of a birth certificate for the non-existing Afolabi Damilola Iyanuoluwa. 

Despite informing the official that the child was born outside Ogun state, she said it was not a problem. Saka said the NPC clause, which says children cannot be registered in an area outside their place of birth, does not hold water.  

In the blink of an eye, she issued a birth certificate and she offered prayers for the "child to grow old and become an important personality in future".


WHATSAPP TRANSACTION IN OYO

At the two primary healthcare centres visited in Ibadan, Oyo state capital, it was much easier to obtain birth certificates by proxy. In one instance, details of the child were submitted via WhatsApp, without any visit to the hospital where it was issued.  

A source had earlier connected this reporter to a nurse at Ikumopayi primary healthcare centre in Lagelu LGA of Oyo. Over a phone call, the nurse, addressed as Iya Abiye, requested that details of the child and his parents be sent via WhatsApp.  

The requested information was sent to Iya Abiye around 7:21 am on October 13, 2021, and by 12 noon on the same day, she called to say the certificate was ready. To make it more convenient, she offered to send a dispatch rider to deliver the birth certificate. 


Soon, a motorcyclist arrived with the certificate which had been duly stamped and signed by a registrar named Opaleke OA.
Unlike the previous experiences with NPC officials, there was no form of physical interaction with the issuer nor was any evidence of the child's birth requested — yet a certificate of birth was delivered.
The experiences were the same at the primary health care centre at Elewi-Odo.
The rowdiness at the health facility was overwhelming as nursing mothers filled up the section, waiting for their turns to have their babies immunised. 
When this reporter asked for the spot where officials of NPC attend to birth certificate applicants, he was directed to a right corner of the room where an official was sitting, swarmed by
booklets and other stationery used for the birth registration process. On getting to her desk, the official told the reporter that "you have to wait behind because there are other people before you".
When informed that the certificate was needed urgently, she asked our reporter to "drop something". After giving her N1,000,  she fast-tracked the process and completed the birth certificate in less than ten minutes.
The certificate dated October 12, 2021, was duly stamped and signed by the official named Tijani RB.  
PROCESS OF ISSUING BIRTH CERTIFICATES

Given the prevalent trend of issuing this all-important document without requesting proper evidence of birth, what exactly is the right process?

The documentation is often done at the local government headquarters of the child or at a primary health centre on a day set aside for immunisation. The data obtained are used to update the census figures on an annual basis for national planning purposes.

Aside from this, it also helps to establish the child's family ties and serves as a requirement for processing an international passport among other relevant documents.

After a child is born, the midwife is expected to provide a certificate as proof before the issuance of a birth certificate. In a case where a child is born at home, his or her parents are required to go to the local government headquarters and get an affidavit to serve as the proof of birth. 

The affidavit would then be submitted at any NPC office and a birth certificate would be issued to the child. But at the centres visited by this reporter, this process is not adhered to.

While the NPC has on several occasions announced that the registration of children and persons under 18-year-old children is free, findings showed that officials in primary healthcare centres still charge for the issuance of birth certificates.  

It was also discovered that the birth registration process is lax. Since there are no digitised records for the registration, it makes it easy to obtain certificates of birth for non-existent children — as long as applicants can dole out stipends for the service.


IRREGULARITIES AMID RISING CHILD TRAFFICKING CASES

Child trafficking is one of the worst cross-border crimes taking place regularly in Nigeria. A 2006 report by the National Agency for the Prohibition of Trafficking in Persons Nigeria (NAPTIP) revealed that traffickers often travel with children using fake birth registration papers and posing as the parents.

While there are no reliable statistics of child trafficking in Nigeria, the International Labour Organisation estimates that 1.2 million children are trafficked each year. Nigeria was listed as one of the countries with the largest number of trafficking victims overseas (particularly in Europe), with victims identified in 34 countries in 2018.

According to the United Nations International Children and Emergency Fund (UNICEF), newborns are fast becoming victims of trafficking. And the ease with which anyone can obtain a birth certificate using a fictitious child's name in Nigeria all but encourages child trafficking.

UNICEF's global database of 2021 also revealed that one in four children under the age of 5 do not officially exist, hence making trafficking of newborns easy, especially in countries like Nigeria where certificates can be issued without proper verification. 

In 2017, security operatives rescued 135 minors in Jos, the Plateau state capital. The children — all male and within the age range of four to eight years — were found in a truck meant for transporting farm produce.

In May 2021, NAPTIP announced the busting of a notorious child trafficking syndicate in the federal capital territory (FCT). The operatives of the agency were able to rescue four children from one Blessing-Nnena Eze, who allegedly stole them.

Two months ago, two suspected human traffickers, Ejiofor Izuchukwu and Nzube Okafor, were arrested for attempting to traffick 10 girls to Dubai, United Arab Emirates. This was after the duo had obtained birth certificates for the girls, taking advantage of the same questionable registration system. While NAPTIP and other relevant agencies have been able to rescue some of the children, a number of them remain missing, leaving their parents in a state of sorrow. 

The police had in 2017 said child harvesting was a growing trafficking phenomenon. Frank Mba, the police spokesman, had described it as an organised crime, with medical doctors said to be involved in running baby factories where newborns are sold after the issuance of birth certificates.
CHILD RIGHTS ACTIVISTS ADVOCATE DIGITISATION

Joseph Igwe, an official of Child Rights Awareness Creation Organisation, said the findings of this investigation have proven that "we have fake figures on the population of Nigerians".

"All of these fake babies would be recorded to our population. Is that not laughable? If we must fight trafficking, the government needs to take proactive measures that will make manipulation difficult," Igwe said.

Child rights activists and ICT experts have advocated digital registration of birth as the solution to the menace. They argued that such an approach would help the country to keep track of its population statistics, trends and differentials. 

Ebenezer Omejalile, coordinator, Advocate for Children and Vulnerable Persons Network of Nigeria, said trafficking is high due to a lack of accurate data.  

"We have rescued three children between last week and now. One of them is a young girl who jumped out of a moving vehicle," he said.

"She was sold to Benin Republic for N500,000, to Mali for N5,000,000 and later to Ivory Coast for N2,000,000 before she eventually found her way back to Nigeria. 

"There is a conspiracy right from the community and children's destinies are being sold away. There is a need for digitalisation so that children will be duly captured during registration. You were able to get different birth certificates for a child that does not exist because the process is not digitised. There is no centralisation and this is contributing to child trafficking in the country."

Ibrahim Oredola, tech expert and founder of SkillNG, a solution-based platform that helps young people to learn digital skills, said he paid N100 to procure his birth certificate when he was 20-years-old.


He said: "Nigeria has refused to change from the analogue era to the digital age. There should be a database that validates the identity of a child. Your findings show that birth certificates even help create false identities.
"We can't equitably share resources with false data. This is the time that NIN is critical and babies should also be allowed to have it. Maybe the government will do the needful with this kind of report."
Salvation Aworanti, founder, Voices Against Rape and Sexual Harassment Foundation, believes that awareness is key to curbing the trend.
"People need to know that obtaining an illegal birth certificate is a problem and must be fought," he said.
"We should pressurise authorities to look at this problem as soon as possible to end harassment of children especially the females who are often victims of rape and other sexual molestation."
NPC: WE'LL LAUNCH AN INVESTIGATION

When contacted, Joseph Udi, director of public affairs at the NPC, admitted that officials at the grassroots perpetrate corrupt practices during the process of obtaining birth certificates for a child. He, however, said the NPC will launch an investigation to address the findings.

"It is not as if we are not concerned about these complaints. Those officials are often told that what they do tarnishes the image of the commission. Corruption is a Nigerian factor and by the time people talk about this, they will point fingers at the entire NPC," he said.

Udi dissociated the NPC from the irregularities, assuring that a digitised process would be launched soon.  

"There is no organisation that condones stupidity and irregularities. I think the officials whose names appear on the birth certificates you have need to be arrested and locked up," he said.

"It is getting to the level where the commission must do something serious and I will pass this to the authorities immediately so that we can commence investigative actions that will be transparent. 

"We have said it times without number that birth registration is free. They (birth certificate registrar) want to mess up the image of the commission. We believe digitalisation will do and we are working with NIMC. We will ask applicants to submit their NIN so as to trace bad guys."

---
This is a special investigative project by Cable Newspaper Journalism Foundation (CNJF) in partnership with TheCable, supported by the MacArthur Foundation. Published materials are not views of the MacArthur Foundation.
Source: Policy Radar
free vector