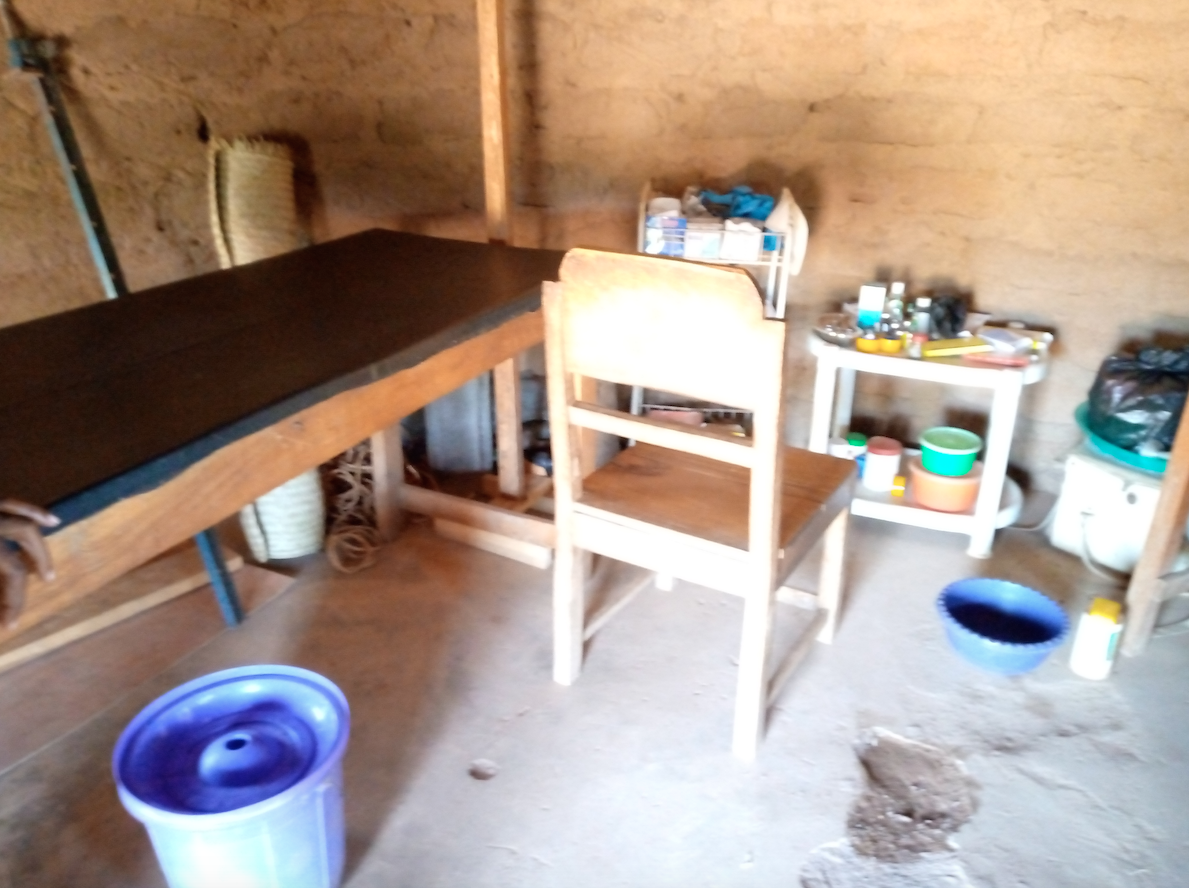 BY AWO JAIRUS
Story Highlights
Scarcity of clean and safe water is on the rise across Benue communities.

Residents say several people have died as a result of the contaminated water.

Villagers suffer from diarrhea and typhoid.

Most of the communities have been left to their fate.
---
It was about 11am when this reporter disembarked from the rickety taxi that took him through the long drive from Makurdi to Agasha motor park in Guma LGA. The weather was hot and even the sand had been heated up. A handful of residents were seen taking shelter by the entrances of their huts. The sleepy community was troubled and the troubles were evident on the faces of its residents.

The community river once served the residents so well that they never felt the need to have boreholes. The river which was once clean and "safe for consumption" has now dried up, resulting in extreme water scarcity.

A significant number of residents rely on a shallow well dug inside a swamp beside the dried-up river. Although water from the well is unclean, residents have no choice but to queue up daily with different sizes of bowls and basins to fetch.

But before they ingest the water, they must make sure to boil it.

"Every day I come here and see the water dried up, it makes me cry," said an old woman addressed as Mama.

"Now, not only do we use dirty water, it is not enough for everyone. To have water at all for your daily usage, you will have to wake up around 3am to join a long queue."

Although the wells dug in some compounds provide cleaner water to the residents, they dry up once the rainy season is over.

"And when that happens, we usually fall back on swampy areas for water. That's where diseases like the one that made me blind come from," said James, an elderly resident of Agasha.

Mike Igber, chairman of the water, sanitation and hygiene committee (WASHCom) in Agasha, said the military once donated a hand pump borehole to the community but it stopped working "a long time ago" and no attempt has been made to fix it.

"The saddest tale is that no state government in the last 50 years has ever done anything about the community's water dearth," said Igber.

At the community health centre, the water used in treating patients was not much better. Although there is a motorised borehole at the clinic, the faucets are no longer functioning, hence the clinic resorts to a 60-feet well that also serves some villagers. The well is without a cover, while the water is milky and has black particles.


"We have a few common diseases and health challenges in this area," said Fabian Tarki, one of the officials at the health centre.
"Some of the diseases commonly troubling our residents in this community are diarrhea, typhoid fever and malaria. And I tell you these are on a high scale.
"And whether we like it or not, all of them can be traced to bad water. We seriously have a major challenge of bad water in this community and we urgently need intervention to save our lives."
We use dirty water to 'bathe, cook, wash' in Ipaav
Like it is in Agasha, the river in Ipaav, Gboko LGA, once served the community, but these days, it has dried up and the residents have dug a makeshift well in a swamp around the area. Although the water is unclean, residents have no choice but to use it for their daily needs.
Joseph Agibee Terlumun, the community spokesperson, said it's disheartening watching the residents drink the water.
"I was born in this community just as my father was. Though, I wouldn't know how long this community is; but I can state categorically that I have never seen any government agencies here," he said.
"It is only during electioneering when some of them will send their boys to come and give us things like seasonings and salt just to vote for them.
"We use this water to bathe, cook, wash our plates and clothes. In short, we use it for everything water is used for because we don't have any other water. It is this one we drink most of the time because going to someone else's well could result in insults being hurled on you; so we resolved to manage our own water."
Terhundu Agibee, a mother of five, said the health officials have advised her to stop giving the water to her children.
"My youngest child is the only one that has never tasted that water," she said.
"They advised that I should wait until after six months of birth before trying to give her. And while I have given my other children the water, I have to give this one someday too because there is nothing I can do."
Oye, where an unknown epidemic 'killed many'
Surrounded by rivers on every side, water scarcity is not a problem in Oye-Obi, a community in Oju LGA. But while water is always available, the River Obi which the community relies on is permanently unclean; it is dirty and has an offensive smell.
Regardless of the state of the water, residents are always at the river bank to scoop some for their daily use.
When this reporter visited, women were found milling around the river bank with their basins and bowls while three men fetched water into a canoe, after which they lifted it on their shoulders and headed for the village square where they distributed it to vulnerable and older residents.
At the only motorised borehole outlet in the community, women and children queued up to fetch as little or as much as they could get. Some were lucky while others went back home disappointed. Water is pumped once daily from the solar-powered borehole, and once it is exhausted, the residents would have to wait till the next day.
"Ours is now like a community that has never been a part of Benue state or this whole country," says 72-year-old Abraham Ogbu Ijih.
"Our lives are now marked by abject poverty and poor living conditions. We are surrounded by water and forest on every side. Yet, we are thirsty with no access to clean water."
Ijih, a visually impaired man who has lived in Oye all his life, said he lost his wife and children to a "water epidemic" in 2020.
"I went blind six years ago. I wasn't blind from childhood. But in 2020, I lost my wife and three children to water impurities. There was a period in this community where a water epidemic killed about 273 people according to our communal records," the former rice farmer said.
"Before her death, my wife was my strong support who took care of me, dressed me, and of course, provided food for me. My only surviving child is little Christiana, who survived the water epidemic."
The community prince, simply addressed as Ogbaji, said he was also a victim of the unknown epidemic.
"In fact, it led to the deployment of officials of the National Centre for Diseases Control (NCDC) about one year ago," he said. "Sadly, till now, NCDC has not been able to provide a name for the ailments and therefore, no medications have been prescribed to help us."
Clement Onaa, chairman of Oju LGA, acknowledged the water problems in the communities but said there has been some intervention from the state and federal governments.
"We are working in collaboration with the state government and the federal ministry of water resources and environmental sanitation and we have recorded some level of intervention," he said.
"Some of those interventions include the provision of solar-powered motorised boreholes to the people of Oye-Obi. The community had water pollution sometime ago and part of the interventions was to ameliorate their plight of bad water.
"Waters in our place are always recharged with rainfall and whenever there is no rainfall, the volume of water reduces."
Onaa called on the state and federal government to provide more boreholes to the affected communities.
Otobi residents live on dirty water 
If you visit Otobi community in Otukpo LGA, you won't miss the shallow wells dug on both sides of the road. And despite the milky colour of the water, children are always found around them; excited to fill their basins and pots to the brim.
Richard Inalegwu, a resident of the community, said they have no functioning borehole, adding that all the residents drink from the same place, save for those who don't mind walking long distances to some neighbouring communities that have boreholes.
"When it comes to drinkable water, we don't have options. It's either you drink the water or not. Since I was born and have been living in this community," he said.
Rachel Agbenu, another resident who had a heap of dirty clothes to wash, said: "The scarcity of water is worrisome. My family has not been able to wash our clothes for the past three weeks because there is no water. We have even reused some of our dirty clothes.
"Just to drink water, we often go to a nearby community a little far from here. Even at that, the water is not always clean and people are always too much there, and there is never enough water to go round everyone."
"Sometimes, we spend nights there."
Igwe-Ito: Water scarcity causes conflict
Water is gold in Igwe-Ito, Obi LGA, and this triggers animosity and ill-feeling among some residents. When it comes to who fetches first, women and children would argue, fight and squabble.
The community has three hand pump boreholes that have not been functional for 10 years, hence the non-availability of clean water.
Now, residents drink from three-foot wells dug under a bamboo tree in a swampy area. But the wells dry up intermittently even though about five are dug per time so that, when one gets dry, another serves as a replacement.
Joseph Ibi, a surgical pathologist, said the major issue in the community is blindness with a few cases of bilharziasis, malaria and typhoid.
"We don't have potable water here so the villagers get their water from caves," he said.
"As a medical personnel, I know to some extent that bad water often causes harm. Aside from that, however, it is not unusual for people from 45 years of age to develop eye problems, making life hard for them. Many residents don't even know that eye challenges can come from bad water."
Contaminated water, experts say, can harbour bacteria, such as those responsible for diarrhea, cholera, dysentery, typhoid, hepatitis A and polio.
According to the United Nations, approximately 297,000 children under five die yearly from diseases linked to poor sanitation, poor hygiene, or unsafe drinking water.
How climate change contributes to rivers drying up
Habib Muhammed, a researcher, said climate change has a direct impact on rivers drying up, especially those that are rain-fed. He said global warming has caused intense heat which translates to more evaporation from the water bodies.
"Rivers that get their recharging from direct precipitation only are known to be dried especially when there is low rainfall," Muhammed said.
"One other thing is the issue of harsh solar radiation due to climate change. Harsh solar radiation causes high evaporation which eventually leads to gradual dryness of rivers."
Muhammed said rain-fed rivers are known as nonperennial rivers because they do not flow all year long but only in particular seasons, unlike perennial rivers.
He said the effects of human activities like damming and irrigation on rain-fed rivers contribute to them drying up faster than usual.
Attempts to speak to officials at local and state government levels to comment on efforts being made to alleviate the plight of the affected Benue communities proved abortive.
Several attempts to speak with Joshua Dondo Ahire, the Benue commissioner for water resources and environment, were also futile.
---
This report is supported by OSIWA, under the Campus Civic Media Campaign Project of Cable Foundation, in partnership with TheCable.
Source: Policy Radar
free vector